We are a local, third-generation monumental masonry company that has been established for over 140 years, serving local communities throughout London.
From our family to yours
Based in Acton, London, our family-run stonemasonry has been supporting generations of families for over a century, creating everlasting memories that beautifully commemorate their loved ones.
We understand how difficult it can be to choose a personal monument to commemorate your loved one that aptly celebrates their life. At C. J. Jordan & Son, we provide a simple yet thoughtful and tailored customer service, supporting you through every step of the process.
We want to make sure that everyone who contacts, emails, or comes into our showroom feels welcome and supported. During an in-person visit to our Acton showroom, you can explore our diverse selection of memorials and supplies up close. You can also have a one-on-one consultation with a specialist member of our memorial team, where they will guide you through the selection process and answer any questions you may have.
We are a family-owned business with years of experience and dedication in designing the perfect memorial for your loved one. At C. J. Jordan & Son, we are here to walk you through the process of creating your loved one's memory monument. We can take care of complicated permit applications on your behalf.
Exquisite Craftsmanship
We create bespoke memorials that are made to order and personalised to beautifully commemorate your loved one.
Each and every monument we produce is made using exquisite and long-standing stone masonry skills. We select the finest quality materials from around the world, and hand-finish and install each of our monuments to assure the greatest degree of perfection.
We house an extensive collection of memorials in our Acton showroom, each designed to create an everlasting memory of your loved one and their life.
Our master craftsmen produce conventional headstones, kerbed designs for larger memorials, cremation memorials and children's memorials. You can personalise your memorial with messages, introductions, inscription formats and world languages along with lettering styles and finishes.
Our dedicated team of memorial specialists strives to deliver total peace of mind and assurance, providing a considerate, helpful and complete customer service from the C. J. Jordan & Son team of memorial specialists.
We are here to assist you throughout the process of creating and maintaining your loved one's memory monument. We provide a range of aftercare services including memorial cleaning and renovation, biannual maintenance service and memorial insurance.
With all of our memorials, you can choose from a wide collection of distinctive and personal touches to add to your loved one's monument. You can add carvings, etchings, photograph plaques and vases to complement your personalized memorial. Chipping infills in stone and glass are also available in a variety of colours.
OUR LONDON SHOWROOM
Come and visit our showroom in Acton, London, where one of our friendly, professional and dedicated team will be on hand to help you choose an exquisite and apt memorial for your loved one.
From our showrooms across the South of England and state-of-the-art stone masonry workshop in Fleet, Hampshire, we have been humbled to provide our local London communities with a caring, sensitive and comprehensive service to support people in creating an everlasting memory of their loved one.
---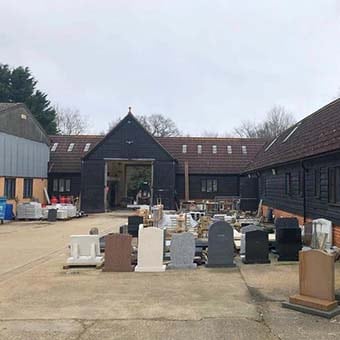 For over 140 years, C. J. Jordan & Son has been proud to serve its local communities in London. Here is just a small sample of the feedback we have received about our service and team.
"Thank you for being so helpful and understanding. The family were very pleased with your expertise and having never dealt with this kind of thing before, found you made the whole process a lot easier than we thought it would be. The memorial looks lovely, Mum we know would be pleased! Thanks to everyone."
.
Ms Holmes
"CJ Jordan were extremely professional and sympathetic regarding the work we requested. My grandmother's headstone required repair and cleaning and a new inscription was added to commemorate the interment of my mother's ashes in the same grave. Despite challenging Covid restrictions, the work was completed within the time scale quoted and the final result was quite remarkable and excellent in quality. We would highly recommend their services."
.
Mrs A
"Jordans repaired and cleaned my grandfather's grave. The workmanship was excellent and the job was completed well within the agreed time frame (and at barely half the cost quoted by another firm). Recommended."
.
Mr B
Address
C.J. Jordan & Son
112 Churchfield Rd
Acton
London
W3 6BY